Featured Photographer: In the Studio with Paula Riff
Photographic artist, Paula Riff, did not begin her journey into photography early on. In fact, it wasn't until post-college years, and after a career as a Japanese interpreter for several production companies in Los Angeles, CA, did she make a change. Landing an internship at the Los Angeles County Museum of Art and photographing for the publications of the California Institute of the Arts, she set her path on a love of the photographic medium. After years of developing her knowledge and experience in both traditional and digital photographic practices, Paula once again refined her vision within the industry. With her latest collections of work, she has gone entirely cameraless with her pursuits. Through a process of hand coating fine art papers with their own inherent beauty, Paula now creates stunning photograms with intent and purpose, shedding light on her graphic sensibilities of light and shadow, color and texture. Making tremendous strides with this aesthetic, Paula garnered recognition in 2018 as a Top 50 artist for Critical Mass, as well as being a finalist in the Alternative Process Category of the Julia Margaret Cameron Award. Her images have appeared in publications and exhibitions both domestically and internationally, and are held in many private collections.
I've always known Paula as this positive tour de force who is always so unbelievably honest and sincere in her approach to art, friendship, and a coalescing of the two. I think of her as the ultimate cheerleader of photographers and their art - always giving her kudos and words of support and admiration. If there is an event, gallery opening, or artist talk, chances are that you'll find her there speaking from the heart about what everyone is working on. Through social media and a network of friends and artists worldwide, Paula is especially fervent, and the embodiment of community within the Los Angeles photographic scene. Behind the scenes, however, she is a humble and shy artist in her own right, and I'd like to shed some light on how I see her art and her life in this realm of photography we are so transfixed and absorbed by. I decided to reach out to Paula and ask her if she would allow me to visit with her to discuss her life in photography, witness some of her work first hand and close up, and get a sense of what her process is like.
Welcoming me at her door with the ever-ready smile, Paula is caring, sincere, and most of all, wildly talented. After taking some initial darkroom classes and navigating her way into what resonated with her earlier intentions on creating images, she spent some time with still lives of flowers and a re-envisioning of photographs she's made while traveling in Russia. It can be noted that quite quickly a preference for working with historical processes is something that had become a large part of her focus. Taking her early darkroom skills, then following up by honing her methods through occasional workshops at venues like the Los Angeles Center of Photography and Maine Media Workshops, Paula has developed a keen sense of what she needs to do in order to bring her vision to light. She speaks about working her way through form and concept in her determination to find what fills her soul, finally landing on creating more abstract imagery to represent her ideas and feelings. She is full of life and energy and completely committed to her cause with these representations.
These days, Paula Riff's final prints take shape as cameraless photograms using the processes of cyanotype, gum bichromate, or a combination of the two. In a large, darkened room of her home, she travels through sequences developed over significant time and effort. Each of these steps is done with the impulsion to control form and color, with the nature of the processes used being perfect for this type of meticulous work. Individual pieces within bodies of work are created over hand marbled paper, fine art papers from Japan, or commercially available Hahnemühle paper, coating each sheet with a collection of brushes suited best for each type of chemistry used. The chemistry used is provided by Bostick & Sullivan, in order to stay focused on the practiced application of each, rather than the measuring and mixing of each. The artist's hand is evident in literally every step she takes, from initial concept to final print. Working with multiple sheets of paper a day, each layer of gum or cyano is built over subsequent days in distinct stages, which eventually means that each piece can take days to finish, though several pieces are being worked on at once. Prints in various stages of completion can be found throughout her work space. There is a path to completion of every print done through experimentation, and guided by aesthetic, with the materials and combination used. Originally using the sun for exposing her photograms, Paula has since moved on to using a large exposure unit, enabling her to print when the inspiration hits, rather than the often adhered to hours of 10am to 2pm on a clear, sunny day. This exposure of her photograms is the one most consistent and reliable part of the entire process and has greatly contributed to the success of her prints.
For a body of work like Shibui, using botanical elements to create imagery means having to spend time collecting and cataloging her elements, accumulating within the pages of multiple notebooks. Walks and hikes at home and while traveling tends to increase the available content making materials necessary to give varied and unique looks to each piece, responding to nature with its own graceful patterns and textures. After moving into a body of work like Blue is not the sky, those elements are discarded in place of more handmade graphical shapes and forms in order to formulate an even more abstract approach to the collection. This is where color, form, and design reign supreme. Incidentally, this latest work is titled from the inspired quote of Henri Matisse, " When I put a green, it is not grass. When I put a blue, it is not the sky." Clearly, Paula finds inspiration in places outside the usual realm of photography, and truly finds her own prints resonating in other genres of art as well.
"I am inspired by abstract painters and the experimental photographers of the early 1920's who created abstract images with the intention of moving beyond the medium's ability to reproduce reality. My vision is to create a different reality by letting go of any preconceived ideas of photography. I seek to consider art in its purest form by looking at the fundamental elements of shapes and lines while giving homage to the beauty and simplicity of abstraction."
Even with an initial concept, there are always choices to be made and new directions to take a particular piece. Paula's thoughts on memory and emotion play a deep connection in these concepts, guided by a love of design and structure. Always looking to the future in her expansion of conceptual nuance in her image making, Paula seeks to experiment by adding sculptural elements to her process, with the intent of bringing more physical depth and dimension to the work. The logistics of this are a work in progress, yet a passionate part of the discovery methods endured in providing something new to the viewer and collector. There is no resting on one's laurels in Paula's world. A continued and informed path is one she refuses to relax any hold of.
In addition to visiting her space of a seemingly endless array of materials, and home of gorgeously framed prints, I had the opportunity to ask a few other questions concerning her work and practice in the cameraless art medium: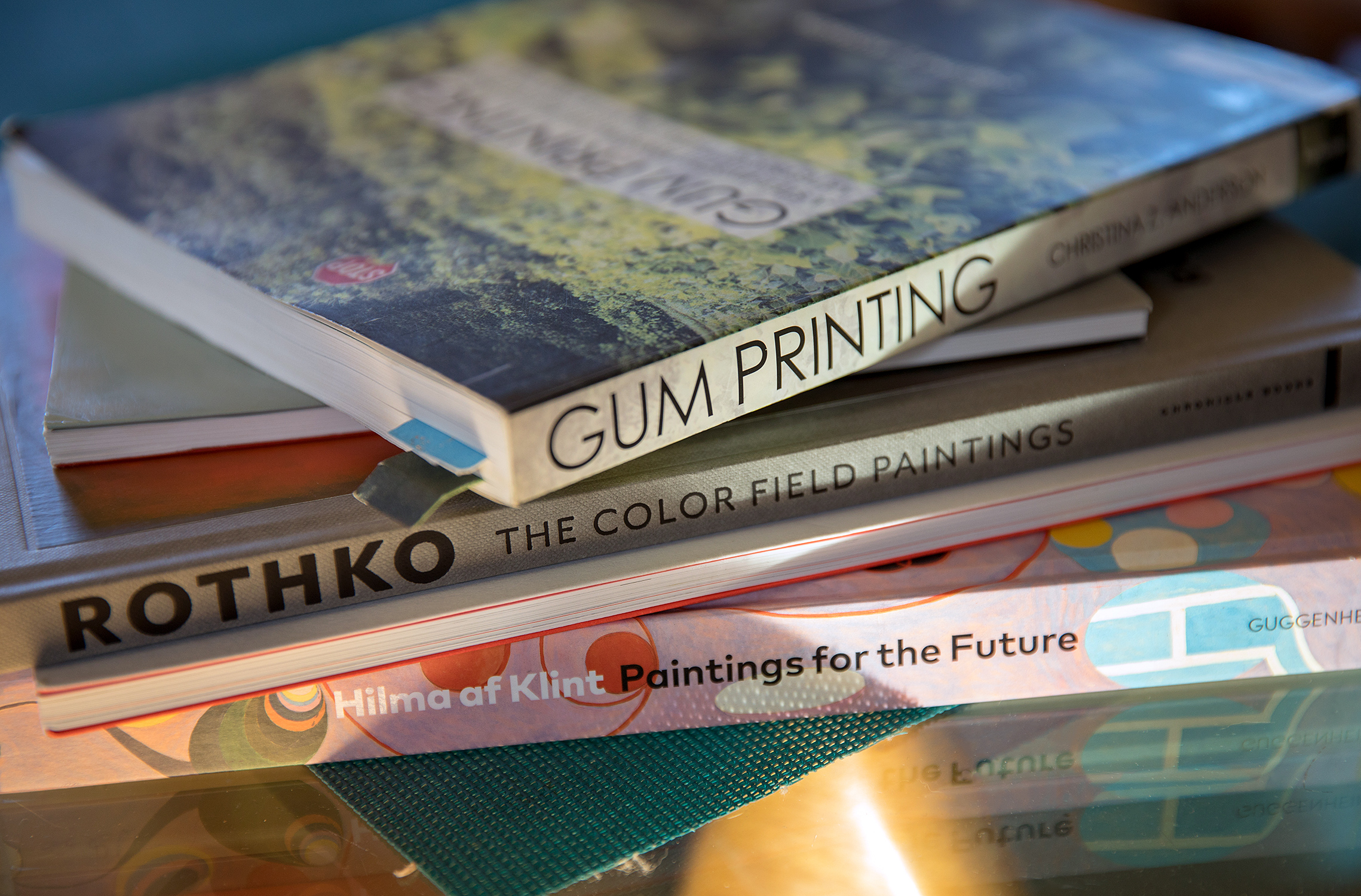 Michael Kirchoff: Can you give me a brief timeline of how you got started in photography, and why you finally gravitated towards camera less work?
Paula Riff: I had been living in Tokyo for several years working as an interpreter at a Japanese newspaper and before returning to the states, the staff photographer gave me one of his old film cameras as a going away present. That Pentax was my first camera and I began by taking pictures of mountains while traveling in Nepal before coming back to the states. I then moved to Los Angeles and enrolled in a beginning darkroom class where I learned how to process film and make silver gelatin prints. That really was a turning point for me and I set up a tiny and rudimentary darkroom in my bathroom. I landed an internship at LACMA in the photo department where I was lucky enough to look at art all day long. I also worked at Cal Arts in the publicity department where I processed film and made prints for their publications. The best part of that job was that I had keys to my own darkroom. That was a real luxury.
I have used all different kinds of film cameras, 35mm, medium format, lots of toy cameras and polaroids too. So when everyone was changing to digital cameras, I was not at all excited about it. I finally bought a digital camera and have taken lots of digital images but I never really felt totally connected to it. I am not great at photoshop or digital printing so at that point I had to start relying on other people to print my work and I felt more and more disconnected to the work I was making. I had been wanting to experiment with alternative processes and started experimenting with cyanotypes. Once I began making photograms and put my camera aside I felt so free! I cannot tell you how liberating it is to make work in this way. It's just up to me to continue to find out what it is I want or need to make. It is pretty exciting.
MK: I know it's random, but can you tell me about how long it takes to make a print once you have a clear idea of what you are working towards?
PR: That is really a hard question to answer because it depends on a lot of different things. Once I have a vision in my head, I first make a paper mock up much like a sketch but with cut paper and I lay out the design or idea I have in head. The actual making of the piece also varies depending on how many layers or coats of chemicals I am using. I work slowly and I usually only make one layer a day but often I am coating more than one piece of paper. Of course there is exposure and development time to consider and depending how that looks and works out then I continue with another coat. Everything I make is hand coated and because gum is a very finicky process sometimes things go well and sometimes not. I let each layer dry over nite so if I am making a piece with three layers, it can take a couple of days. Sometimes, it is faster but then sometimes the gum layer doesn't look great or the color combinations don't turn out how I envisioned so then those days are totally lost. And now I am making images with more pieces so those can take longer, it is hard to predict. Truthfully, I am always thinking about what I am making or going to make next and continually think about colors, shapes and designs in my head. It sounds crazy but I spend a lot of time dreaming about the colors I want to use and what will go on top of another because I don't follow the usual order of color combinations. I go on walks often so I can clear my brain to think about colors and shapes and lines. This unorthodox method just seems to work for me.
MK: Is there anything from your past that you feel has had a dramatic influence on how you create images today?
PR: I would say that the years I spent living in Japan definitely influences my visual and aesthetic take on things. It isn't anything specific but the appreciation for detail and the sensibility and beauty in the arts and crafts completely resonate with me. I am also drawn to Japanese design and often use Japanese papers, so yes, there are many aspects from that time period that influences what I make in an indirect way. But other than that, I try to stay focused in the present and am constantly looking at different artists, contemporary and otherwise as well as looking at what is being made and shown today.
MK: What is it that you get out of creating art? Is there an overriding theme in your work that you feel best represents you as an artist?
PR: My creative practice has definitely changed over the years and now I am much more focused than maybe five or ten years ago, but my life has changed in many ways as well. Making art is essential now to my everyday and keeps me sane especially now in this political climate. I feel very lucky that I am able to make art and that I have found a kind of art making that continually inspires and excites me. Right now, all my work is made without a camera that combines historical processes but my intent is to use these processes in a contemporary and experimental way. It is very different from what I was making twenty years ago. Now I don't have to go anywhere or rely on anyone to make anything, it is just the paper and me and that has been really freeing and has opened up a whole new way of creating. I am interested in the abstract and non-representational forms and colors, shapes and also elements of design. These are the driving forces behind what I am making now.
MK: What is it about using historical processes in the creation of your art that you love?
PR: I love the element that something is being made by hand and also that one has to slow down to make it. One can never be in a rush when using historical processes. I have to focus and for me it is a very meditative process. I would compare coating a piece of paper to listening to one's breathing, hopefully a breath that is slow and calm. It also gives me time to think each step of the way. Yes, it can be very frustrating because at any point something can go wrong, it is not a sure science by any measure, but this way of working suits me for sure. I am also keen on the one of a kind aspect, it is never a mass production which some may find limiting but for me it just inspires me to make more work.
MK: How do you see your work progressing into the future? Do you have anything new you are currently working on that we should be on the lookout for?
PR: It is a funny thing, but working in this way has freed my brain in a weird sense and I am always thinking about how I can change things up because I really like doing things differently. I am not great at following directions and I tend to make up my own methods, although not always with terrific results. That being said, I am now interested in experimenting with presentation and getting things off or out of the usual square or rectangular frame that hangs on the wall. I want to make art that is more sculptural and has more dimension and I am in the midst of trying new ideas. One of the problems is that I see something in my head but I get stuck somewhere in the execution, so it is all a work in progress. I also want to experiment with site specific and more temporal kinds of art making and art happenings. I tend to dream big and am not sure if any of these ideas will work out so please stay tuned!
Thank you so much for this opportunity to talk about my work. I am honored and thrilled to be a small part of Analog Forever and am excited to see everything you do as you go forward!
While many of her ideas are inspired from her time in Japan and inspired by Japanese themes, Paula remains steadfastly rooted in the present, with a sincere focus of what she is doing with her latest works. There is an improvisational quality that occurs from the heart in the art she makes. It's not random, not planned, but very much in the moment - which is a true sense of the honesty that flows from her being. There exists an attitude that is free-flowing, organic, and completely unforced in any way. In keeping with this theme, no reproductions of her prints are ever made and only sold as one of a kind works of art.
In her upcoming event and exhibition schedule, you can soon find Paula's work in a solo exhibition at the Griffin Museum of Photography, in Winchester, MA. The exhibit runs from April 11 through June 2, 2019. She will also be showing with The Print Center at the Art on Paper Fair in New York City, March 7-10, 2019. Both shows are highly recommended viewing of her original works. In addition, stay up to date with Paula on her website and social media channels for more info. Oh, and if you ever get a chance to meet her and discuss her works, you will have made a friend and colleague for life - also highly recommended.
ABOUT THE AUTHOR
Michael Kirchoff is an independent curator and juror for a number of organizations and galleries around the country, including Photolucida's Critical Mass. In addition, he spent ten years (2006-2016) on the Board of the American Photographic Artists in Los Angeles (APA/LA), producing artist lectures, as well as business and inspirational events for the community. Currently, he is also Editor-in-Chief at Analog Forever Magazine, and has recently founded the online photographer interview website, Catalyst: Interviews. Previously, Michael spent over four years as Editor at BLUR Magazine. Connect with Michael Kirchoff on his Website and on Instagram!